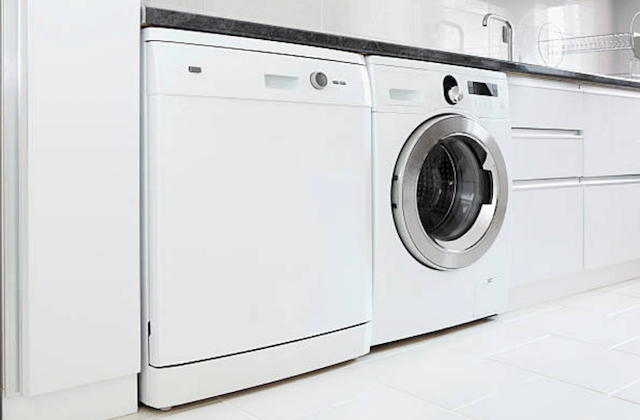 CALL TODAY:
(954) 420-8459
A washer and dryer are two of the household appliances that a busy family really doesn't want to have out of commission. The dirty laundry can really pile up fast and trips to the laundromat are expensive and inconvenient. Done-Right Davie Appliance Repair offers our affordable and reliable same-day service repair for these important appliances.
Our technicians are supplied with the proper tools and training to handle common and complicated problems in a timely manner on our first visit to your home. Our vans are also stocked with manufacturer parts for many of the major brands like GE, LG, Kenmore, Bryant, Sears, Carrier, Armstrong, Goodman, Lennox, RCA, and many more.
WASHER PROBLEMS
Loud/Consistent Noises
Our technicians are able to locate the source of the noise and whether the part can be repaired or needs to be fully replaced. This is the most common of issues that we encounter with washing machines. The most common causes of these noises are a broken pump motor, worn-out belt, or worn-out bearing.
Won't Turn On/Agitate
First and foremost, you should check to make sure that the washer is plugged in and the corresponding circuit breaker has not been tripped. If these have been ruled out, give us a call. We know that the most common causes are a broken door latch, thermal fuse, or timer if it won't turn on and the agitator cog, coupler, drive belt, or transmission if it won't agitate.
Won't Spin
This problem is one that we can easily address so that you can get back to your usual daily chores. If a washing machine is not spinning, it is most likely caused by a faulty wax motor, door latch, or motor coupling.
Overflows
This problem can cause serious chaos in your home. The most common of causes for this problem are the water inlet valve, water level pressure switch, or the air dome tube.
No Hot/Cold Water
A washing machine that is not producing hot or cold water usually has, either, a bad temperature control switch or a broken inlet hose.
DRYER PROBLEMS
Loud/Constant Noises
When a bearing, seal, or belt is broken or worn out, the dryer is going to make loud or constant noises. This is the most common of the issues that we get calls about concerning dryers.
No Heat/Won't Dry
The same things that will cause a dryer to not heat up will also cause a dryer to get too hot as well. The usual causes of this problem are a faulty heating element, a high limit thermostat, or a cycling thermostat. Whatever the cause, our technicians will determine the source and rectify the situation.
Won't Turn On/Tumble
In some instances, you may be able to address the problem yourself by checking to make sure that the machine is plugged in and the circuit breaker is still on. If these have been checked, it is likely caused by the heating element, high limit thermostat, or cycling thermostat. These parts may need to be repaired or just replaced altogether.
Won't Turn Off
This is a simple problem to take care of and it is most likely a broken door switch or timer that needs to be fixed or replaced.
Timer Won't Advance
The timer is an important component of a dryer because it communicates when the dryer is to complete its' cycle. This can happen if the cycling thermostat or timer motor is broken.